D3 organic product is the flagship product of Nature's Renaissance International Limited (NRI). D3 Supplement is a 100% natural product that detoxifies, a super immune booster and an anti-oxidant.
What is NRI D3 good for?
It also functions in the following ways:
Best remedy for Malaria/Typhoid, Piles and Asthma
The product is Anti-cancer
A very strong antibiotics
Helps in the treatment of all pathogenic infections
A dependable energy booster
Suitable for organ renewal
Fortified with Vitamin C, Zinc and Iron to improve libido
It is Super Immune Booster

Cleanses toxic wastes

Helps in Stem Cell Replicaton
Read More: D3 Organic Supplement (Super Immune Booster): Benefits and Side Effects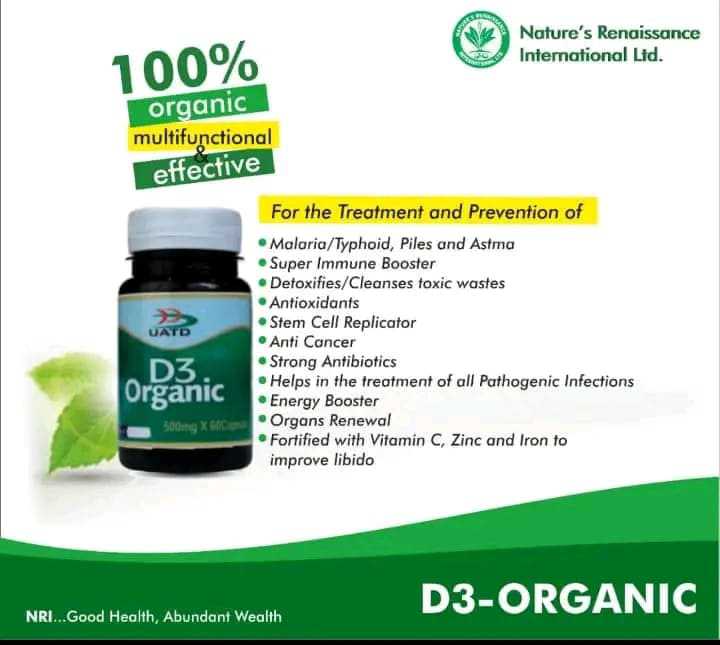 What does D3 Organic Supplement Contains?
Desmodium gangeticum
Eclipta alba
Garcinia Kola
Tetracarpidium Conophorum
Ocimum sancta
Curcuma longa
Can I take D3 supplement everyday?
Yes you can. 4 – 6 capsules of d3 organic daily keeps the hospital far..
Should D3 be taken morning or night?
D3 should be taken 3 Morning and Evening…
How much is NRI D3 organic?
Cheapest price for NRI – Uatd D3 Supplement Immune Booster – 60 Capsules in Nigeria is sold at
Distributor/Company Price ₦
3,500 and 
Retail/Selling price – ₦
5,000.
How can i buy Nri D3 Organic Product?
Easy! if your are in Nigeria, Call Or Whatsapp: 08136775761.
For details on how to become a Distributor on Nature's Renaissance International, join us on Facebook through the below invite link Here
CLICK HERE TO JOIN MHMS GROWING BUSINESS TEAM HERE ON Whatsapp