How Much Omega 3 Is In Olive Oil? If this is your question then you are on the right page to get your answer. Many people feel that they already have a healthy fat-rich diet that contains Omega-3.
However, not many know how much Omega-3 is contained in the superfood consumed, as well as what is the minimum amount needed to be able to meet daily Omega-3 needs.
Fat has been often used as a scapegoat when it comes to obesity. Also often blamed when we talk about a number of diseases including heart disease and stroke.
But interestingly, a number of views have also emerged regarding the benefits of fat for health. Even making a fat-rich diet a lifestyle, as in the ketogenic diet.
This is still under debate. Several pro and con voices emerged. But of the many opinions, it's quite interesting when we find out how they then agree on one of the sources of fat that they view as the healthiest.
Especially, if it's not virgin olive oil or olive oil. The oil obtained from the extraction of olives is a type of essential oil that is commonly used in the Mediterranean region. And now it has spread throughout the world.
Commonly used for the culinary world, beauty treatments and it turns out that it has also been used for a long time as a raw material for medicine.
What's the secret behind the claims pinned on this one essential oil? What is stored in virgin olive oil and what are the actual benefits of this olive oil?
Let's take this opportunity to explore more deeply about: the content in olive oil, how much omega 3 is in olive oil, and benefits of olive oil.
Read Also: Low Carb Diet – What Is It, How To Do It And What Are The Benefits
Olive Oil Content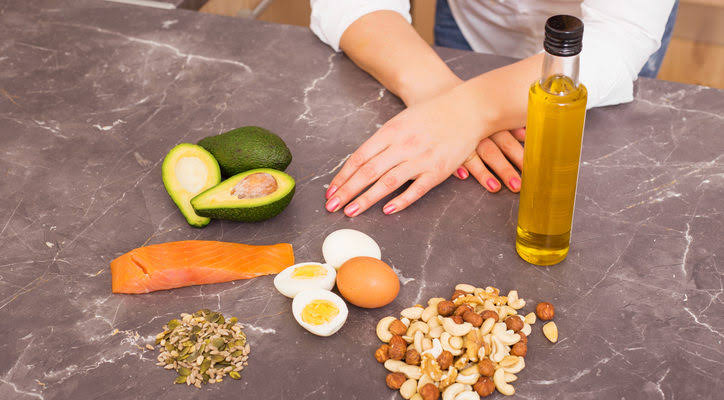 Several studies have shown that olive oil contains a number of healthy fat components that are important for the body. Enhanced by several nutrients that make it a perfect source of nutrition for the body.
According to report, it is said that in every 100 grams of olive oil with 100% purity it contains 13.8% saturated oil and 73% unsaturated oil, most of which are types of oleic acid or omega 9 fat.
Meanwhile, pure olive oil contains 0.76% omega 3 fat and 9.7% omega 6 fat.
Not only fat, 100% pure olive oil also contains levels of vitamin E which reaches 72% of the body's needs and vitamin K as much as 75%. Don't forget a number of antioxidants such as phenolics.
Also stored a number of anti-inflammatory components such as oleochantal and oleuropin.
Both have a performance similar to that of ibuprofen in relieving pain and overcoming inflammation, as explained in a journal entitled Phytochemistry: ibuprofen-like activity in extra-virgin olive oil which was published in the journal Nature in 2005.
Even if there is something that needs to be a concern is the content of omega 6 which is inversely proportional to the content of omega 3. You should take omega 3 and omega 6 in a 3: 1 composition.
An unbalanced composition will make it easier for the body to attack inflammation and cell damage problems.
Therefore it would be wiser to balance your intake of olive oil with intake of sources of omega 3.
After all, even though the composition is reversed than it should be, the levels are not high at all so it's easy for you to balance it with other intakes.
Is Olive Oil The Best Source Of Omega-3?
Olive oil is not the best oil for a significant supply of omega-3, an unsaturated fatty acid. For example, according to Health Canada 1, 15 ml of olive oil contain 0.1 g of omega-3 against 1.3 g for only 2 ml of flaxseed oil.
As the quantity of omega-3 contained in olive oil is negligible, one should not rely on this fat to derive benefits such as a reduction in the risk of cardiovascular disease, regulation of blood pressure, prevention of certain cancers and improvement of kidney function. To benefit from an interesting intake of omega-3, it is rather advisable to bet on hemp, krill or pumpkin oil.
What Makes Omega-3 Fats Unique?
They reduce all types of inflammation and therefore they are recommended to prevent and relieve allergies, asthma and eczema.
They reduce the levels of triglycerides and increase the levels of good cholesterol or HDL, which reduces the risk of suffering a heart attack.
They also reduce the probability of suffering from cardiovascular pathologies or heart attacks, much more than drugs in comparison.
Prevent against the appearance of infarction
Improve cartilage and joint health
Promote eye health and see better in adults and during fetal growth in the womb and eye development in children.
They play an important role in brain development. A clinical study carried out on small children has shown that children who consume omega-3 increase their mental and visual capacity, and therefore these children will be more intelligent than those who do not consume it.
Help treat Alzheimer's.
They increase intellectual performance, intelligence quotient and help the elderly to maintain memory in good condition.
Help people who suffer from multiple sclerosis.
Reduce symptoms of ADHD (Attention Deficit Syndrome) in children.
Maintain cell wall permeability
Promote hormonal balance, which contributes to having a deep and restful sleep and to waking up well rested and with vitality.
Lower high blood pressure. Unlike drugs that force blood pressure into a normal range. Omega-3s naturally reduce blood pressure and keep it at a healthy level. Even if it takes a little longer to regulate blood pressure, the advantage is that it has no side effects, as happens with medication.
Prevents the onset of cardiovascular problems, the deposition of fat in the arteries and the formation of platelets by endothelial cells (the coating of the arteries consists of endothelial cells)
Reduce platelet adhesion and the likelihood of suffering from vascular strokes caused by blood clots in the brain.
Reduce the production of cytosines, linked to inflammatory reactions which increase the chances of suffering from arteriosclerosis.
Increases the activity of prostaglandins produced by endothelial cells, and helps relax and dilate the arteries.
Increases the concentration of good eicosanoids (prostaglandin F2α and tromboxane B2) and at the same time reduces harmful triglycerides.
They are a very powerful antioxidant and one of the few that can cross the blood-brain barrier.
They improve the state of mind, increase optimism and reduce the development of mental illnesses.
They are a very effective natural antidepressant.
They balance the level of testosterone.
They help reduce the growth of carcinogenic cells and are effective in treating prostate cancer, breast cancer and colorectal cancer.
They are the perfect supplement to fight aging as they improve hormonal levels and joint health. In addition, they are a fantastic sports supplement, as they speed up recovery after a severe training session.
They reduce inflammation of the lungs, and are also used to treat allergies, asthma and eczema.
They also serve to reduce obesity and improve the ability of cells to respond to insulin and stimulate leptin excretion. This hormone regulates food intake, weight and body metabolism, linked to the amount of adipocytes (fat cells).
What Is The Ratio Of Omega 3 & Omega 6 In Olive Oil?
The important thing for an oil is to have good essential fatty acids and a good omega-3/omega-6 ratio.
This ratio in olive oil is 11 to 1 while ideally it should be between 2 and 3 to 1.
To stay healthy, our body needs these essential fatty acids, also called "polyunsaturated" fatty acids, but the body especially needs a good balance between Omega 6 and Omega 3.
How Much Omega 3 Is In Olive Oil? 
Olive oil contains about 45% saturated fat, 11% polyunsaturated fat including omega-6 and omega-3 fats. In addition, olive oil is also rich in monounsaturated oleic acid so it will be a healthy oil choice for cooking.
Meanwhile, pure olive oil contains 0.76% omega 3 fat and 9.7% omega 6 fat.
Which Oil Is Highest In Omega-3?
Prefer first cold pressing, non-hydrogenated, organic quality, in opaque glass bottles.
Linseed oil (Linum usitatissimum) is obtained from the seed. It is she who gives her name to linolenic acid (ALA) that we saw above. It contains 56%. Its use is mainly dietary, it improves the ratio with omega-6.
It contains squalene which softens the skin, with hydrocarbons and triterpenes, as well as vitamin E with antioxidant action. In addition, it contains flavonoids.
It must come from a first cold pressing and be packaged in an opaque bottle, in small quantities, to be kept in the refrigerator. We will take care never to heat it and not to consume it after the expiry date, because it becomes toxic.
If you eat flax seeds, be sure to grind them well beforehand to assimilate them. Eat ground seeds immediately or later in the day to prevent them from going rancid.
Camelina
Camelina oil (Camelina sativa) is also rich in omega-3 (present at 30-35%) . It has 4 times more than that of rapeseed. It is obtained from the seed. Its color is golden yellow and its characteristic smell is reminiscent of green vegetables. It is composed of 70% PUFA.
In addition, it contains provitamin A and vitamin E (about 70 mg per 100 g), which gives it a good antioxidant action. It is particularly recommended from the age of 45, in particular to regulate the ratio with omega-62‌.
It is mainly used for food. It has a protective function of the cardiovascular sphere and the nervous system. In addition, it is anti-inflammatory .
However, it is also found in cosmetic formulations. It is a good cutaneous regenerator and healing, which makes mature, irritated and sensitive skin happy, as well as dull, dry, brittle and fine hair. It softens the skin and nourishes it, as well as the hair. It penetrates quickly.
Like any oil rich in omega-3, it is very sensitive to oxidation. It is important to consume it quickly after opening and keep it in the refrigerator. For food, we will take care not to heat it and to reserve it for seasonings for salads for example.
Perilla
It is also obtained from the seed. Perilla oil (Perilla frutescens) contains 94% PUFAs and is rich in omega-3s (60-64%). Its rate is the highest of all the vegetable kingdom and brings only few omega-6 and 9. Its ratio is 6 omega-3 for 1 omega-6. It helps reduce allergic and asthma symptoms , strengthen immunity, protect the cardiovascular sphere, strengthen immune defences, optimize cognitive functions, reduce gastrointestinal disorders, prevent certain cancers3‌.
In addition, it contains vitamins A and E as well as rosmarinic acid. This gives it antioxidant, antiviral, anti-inflammatory, anti-allergic and anti-carcinogenic properties.
It keeps very well and is used in food, as well as in cosmetics and for massages. It is available in the form of dietary supplements.
Inca Inchi / Sacha Inchi Oil
Plukenetia volubilis, also called Sacha Inchi, contains 92% PUFAs and in particular 45% omega-3s. It also has other polyunsaturated fatty acids. It contains vitamin E, provitamin A and 0.5% unsaponifiables with campesterol and stigmasterol.
It has a good ratio and thus makes it possible to protect on the cardiovascular level, with in particular the maintenance of a normal cholesterolemia. In addition, it protects the immune system.
On the skin, it has an antioxidant, moisturizing, restructuring and anti-inflammatory action. Thus, it soothes skin dryness and irritation. Mature skin appreciates it for its antioxidant and firming properties. It slows down skin aging, provides suppleness and elasticity, limiting the appearance of wrinkles. In addition, it has a calming action and helps soothe skin disorders such as eczema.
It is very sensitive to oxidation. Be sure to keep it in the refrigerator and consume it quickly after opening.
Chia
Chia oil (Salvia hispanica), rich in omega-3, is obtained from the almond. It contains 91% AGI, as well as 0.5 to 1.5% unsaponifiables. It is interesting both nutritionally and cosmetically. Indeed, it is antioxidant (thanks to the presence of vitamin E and polyphenols), soothing, healing and regenerating.
Thus, damaged, sensitive, irritated and mature skin and hair appreciate it very much. It contributes to the reconstruction of the lipid film. It deeply nourishes skin and hair.
It helps to fight against inflammation, both of the skin and of the whole organism.
Chilean Rosehip
It is obtained from Rosa rubiginosa, more particularly from the ripe fruits of the muscat rose, native to South America. It contains about 40% omega-3 and less than 2% unsaponifiables. We can cite its cardiovascular properties thanks to its good ratio with omega-6.
It is used in cosmetics for its great skin regenerating properties. Indeed, it helps to rebuild cell membranes.
It is thus ideal in case of sunburn, burns and dermatological problems such as eczema, rosacea, psoriasis, acne.
In addition, it acts to prevent skin aging (wrinkles but also stretch marks), restoring elasticity and promoting the synthesis of collagen. In addition, it intervenes wonderfully in case of scars, whether recent or older.
We often hear about those from nuts, rapeseed or even hemp to refer to a vegetable oil rich in omega-3. However, they contain more omega-6.
Now you know which ones are rich in this unsaturated fatty acid. You know why it is important to use them and how, whether for food or for skin care. Remember that it is important to vary the different varieties that you use on a daily basis, to guarantee maximum intake for your body. If you do not know them, do not hesitate to test them, you will find small quantities.
What Benefits Of Olive Oil?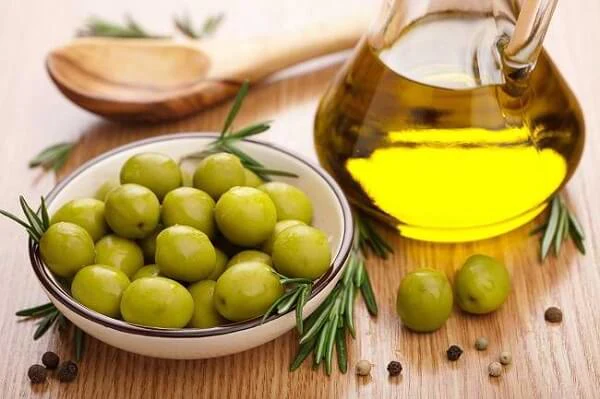 With a number of nutritional components and antioxidant phytonutrients stored in it, what are the benefits of olive oil that you can get for your body?
Works as an anti-inflammatory
Of course, we previously explained that olives contain several types of antioxidants that work as anti-inflammatories. This is why olive oil is so well used as an anti-inflammatory.
Not to mention inflammation or damage to cells on the surface of the skin including acne and irritation from sun exposure.
Also inflammation that forms in the body such as inflammatory problems in the intestines and stomach, joint pain which refers to gout and rheumatism as well as damage to blood vessel cells which refers to the health of the heart, arteries and brain.
In addition, virgin olive oil was also found to have the ability to restrain the release of certain proteins which are signals the body is experiencing pain or illness. This will help the patient relieve pain more effectively.
Protects heart health
A number of studies included in the publication of the New England Journal of Medicine in 2013 with its journal Primary Prevention of Cardiovascular Disease with a Mediterranean Diet prove that eating patterns in Mediterranean culinary culture have benefits for heart and blood vessel health.
And evidently, one of the reasons is because the Mediterranean-style culinary tradition is closely related to the use of olive oil.
They commonly use olive oil as cooking oil, spread and mix for baked goods and bread to as a dressing for salads.
A journal article published in Pharmacological Research in 2007 with the title Olive oil and the cardiovascular system proves how the habit of consuming olive oil will help maintain heart health.
Protects blood vessels
Still related to heart health problems, it turns out that consuming olive oil, especially pure olive oil, will also help you maintain healthy blood vessels.
And this is the common thread between olive oil and heart health. There are a number of ways how olive oil maintains the health of your body, especially blood vessels. 
First, because the levels of HDL cholesterol in olive oil are relatively high.
To convert and digest cholesterol into energy, the body needs lipid compounds which will become a medium for fat metabolism in the liver.
By consuming lipid-rich HDL you will increase your body's ability to metabolize cholesterol, including HDL and LDL.
In addition, olive oil also prevents inflammation in organs and blood vessels, prevents clotting and the formation of blood deposits, also includes controlling blood pressure.
Olive oil is also good for treating the blood vessels in your body by helping to improve the function of the endothelium, which is the inside of the blood vessel walls.
Prevent cancer
It is very interesting to understand that olive oil is also a type of virgin olive oil with 100% olive extraction content, which actually has benefits for cancer prevention.
Omega 6 fat levels which are far above omega 3 fats are often thought to actually trigger cancer, it's just that fortunately the omega 6 levels in olive oil are not high so they can be saved with a combination of foods rich in omega 3.
While studies show that those who live in the Mediterranean region and follow a Mediterranean-style diet, have a smaller risk of developing cancer.
The content of antioxidants stored in a number of food intake could be the secret behind this fact. Like virgin olive oil, this essential oil has a high antioxidant content. 
The phenolic activity in olive oil combined with the antioxidant components based on bio-oil is one of the secrets to how olive oil has anti-cancer abilities.
The journal in the European Journal of Cancer Prevention in 2004 with the title Olives and olive oil in cancer prevention is one of the strongest proofs of this.
Further research is still needed to prove the level of ability of olive oil and its components to prevent cancer in humans. So far, research is still within the limits of using animal samples and test tubes.
Prevent Alzheimer's
Olive oil is also said to have benefits in nourishing the brain thanks to its healthy fat content including omega 3, 6 and 9 fatty acids.
All three have a positive effect in helping protect cells in the brain from experiencing degradation. It also prevents the formation of gray plaque which triggers Alzheimer's.
A study on rats proved the ability of the fat and antioxidant components in olive oil to work to prevent Alzheimer's and overcome this complaint at an early level. This was explained in the 2013 ACS Chemical Neuroscience Publication.
While trials on humans show the effect of therapy with virgin olive oil to benefit the maintenance of brain cells, neurotransmitter systems and cognitive function.
In accordance with a review in The Journal of Nutrition; Health and Aging in 2013 with the title Virgin olive oil supplementation and long-term cognition: the PREDIMED-NAVARRA randomized, trial.
Conclusion: How Much Omega 3 Is In Olive Oil?
Olive oil is a natural oil extracted from olives. This good oil contains 24 percent saturated fat, omega-6, and omega-3 fatty acids. 
Olive oil contains a lot of good fats compared to other oils. In one tablespoon of olive oil contains about 11 grams of monounsaturated fat, as well as 1 gram of polyunsaturated fat.
Moreover, if you look at the comparison with other ordinary oils, ordinary oil only contains 0.1 grams of monounsaturated fat and 0.25 grams of polyunsaturated fat.
It can be said that olive oil has 5-10 times the amount of good fat needed by the body.
In addition to omega-3 fatty acids, olive oil contains the very healthy oleic acid, which is believed to help the body reduce inflammation.
Olive oil is often considered the healthiest oil that has a myriad of good benefits for the health of the body.
FAQs
Omega-3: what is it?
These are essential fatty acids that contribute to the proper functioning of the body. They must be provided by food.
What oils contain it?
– Linseed, Camelina and Perilla
Oil – Inca Inchi, Chia, Rosehip Oil from Chile
Why is omega-6 balance important?
A good omega-3/omega-6 ratio is important because it prevents:
Osteo-articular and cognitive
disorders
Hormonal imbalance and skin disorders
What oil contains Omega 3?
Plant-based omega-3 fatty acids are found in large amounts in rapeseed, walnut, soybean, perilla (Perilla frutescens), flax, camelina, hemp, pumpkin seed or germ oils and wheat.
What is the best oil for the heart?
Rapeseed oil is the ally of our heart. It is rich in omega 3 and 6, as well as antioxidants, especially vitamin E. Rapeseed oil contains low amounts of saturated fatty acids. This oil also joins the properties of olive oil in terms of heart health.
Does olive oil contain omega 3?
Olive oil contains little omega-3 , a little omega-6 but above all, a lot of omega-9! This monounsaturated fatty acid is also part of the "good fats". It is excellent for maintaining heart health and reducing high cholesterol.
How much olive oil consumption per day?
The recommended daily intake of olive oil is one and a half tablespoons, according to a 2018 statement by the US Food and Drug Administration, although some studies report positive effects with a few tablespoons more than that.
Is Extra virgin olive oil of better quality?
According to the International Olive Oil Council, virgin olive oils are obtained by "mechanical or other physical processes under conditions, particularly thermal ones, which do not lead to alteration of the oil, and which have not undergone no treatment other than washing, decantation, centrifugation and filtration.
The quality of an olive oil is mainly noticed by its acidity level. The lower this is, the better the oil will be. Its taste qualities will stand out more.
This appellation is subject to the standards of the International Olive Oil Councilwhich stipulates in particular that the acidity level must not exceed 0.8%.
In addition, various organoleptic criteria, that is to say everything that can be perceived by the sensory organs, must be respected in order to carry the "extra virgin" label.
For which health problems or situations is the consumption of Omega-3 fatty acids recommended?
Cardiovascular diseases
Rheumatic diseases
Eczema, psoriasis, dry skin and tingling
Joint pain and osteoarthritis
Hypertension
Huntington's disease
Lupus
Migraines
Osteoporosis
Concentration problems
Stress
Attention Deficit Hyperactivity Disorder (ADD)
Bipolar disorders
Depression
Alzheimer's
Type 2 diabetes
Pregnancy and breast feeding
Prevention of arteriosclerosis, hypertension and dementia
Multiple sclerosis
Inflammatory bowel disease
Obesity
Cancer
Raynaud's syndrome
How Much Omega 3 Does Olive Oil Contain?
Olive oil is characterized by a more favorable balance of two fatty acids – the ratio is 1: 10. Omega 6 in olive oil contains 10 grams, and omega 3 – 1 gram.
Why drink olive oil in the morning?
Olive oil on an empty stomach stimulates transit if you have trouble digesting a meal or you are faced with minor constipation problems. To remedy this problem, just take a teaspoon in the morning to regulate its transit and thus avoid any digestion problems.
Where to find omega-3 naturally?
Omega 3 fatty acids are found in large quantities in microalgae, in some fish, seeds and nuts.
What is the richest oil?
Flaxseed oil is one of the richest vegetable oils in omega 3 fatty acids obtained from the cold pressing of flax seeds. This plant belongs to the Linaceae botanical family, and its oil contains 50% omega 3 for 13% omega 6.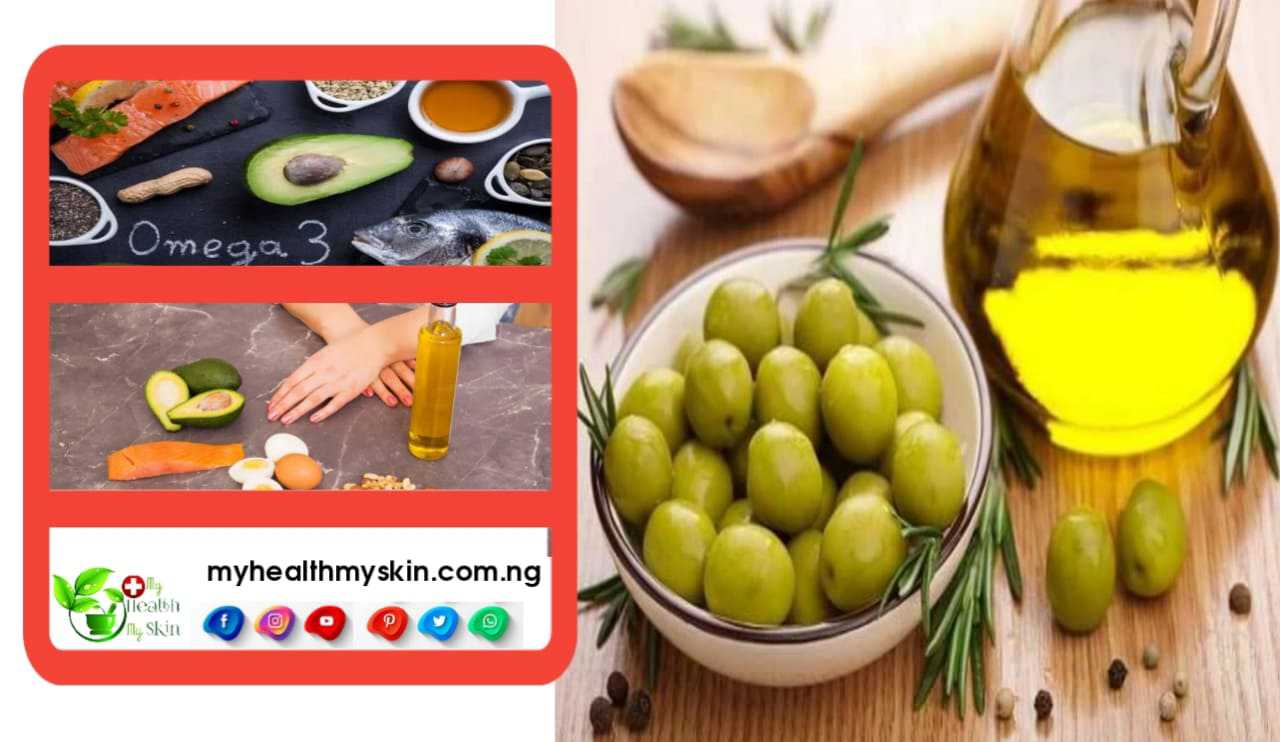 We hope this article helped you learn how much omega 3 is in olive oil. You may also want to learn How Many Carbs In Vodka, or check out our Diet & Nutrition category.
If you liked this article, then please share on your social networks and stay tuned for upcoming articles. You can also find us on Telegram and Facebook.