A healthy food plan for a week could be complex and tasking, but we encourage you to start working on it. To do so, you can consult some of our publications on healthy food menu.
This is however, the easiest to follow healthy weekly meal plan you'll ever find.
It is very easy to put into practice and is elaborated with an infallible method backed by science to eat vegetables, carbohydrates, proteins and fats in their proper measure.
What our Healthy food plan for a week looks like?
This healthy food plan for a week, does not propose specific recipes rather it proposes combinations of the food groups that you need to eat every week to follow a healthy and balanced diet.
If you have ever been told that to elaborate a healthy meal menu you don't have to count calories or weigh quantities, that is a fatal mislead.
According to Harvard University (USA), it is recommended that you follow the plate method and this entails counting down on calories and weighing food quantities. This new way of eating healthy revolutionizes what was formerly known as the conventional nutritional food pyramid.
The Nutritional Formula behind our healthy food plan for a week.
This healthy weekly meal plan follows the Harvard Plate method for healthy eating which suggests you always fill your plate half with vegetables, one quarter with carbohydrates and the other quarter with protein.
Our Weekly healthy food plan: (Harvard Plate Method)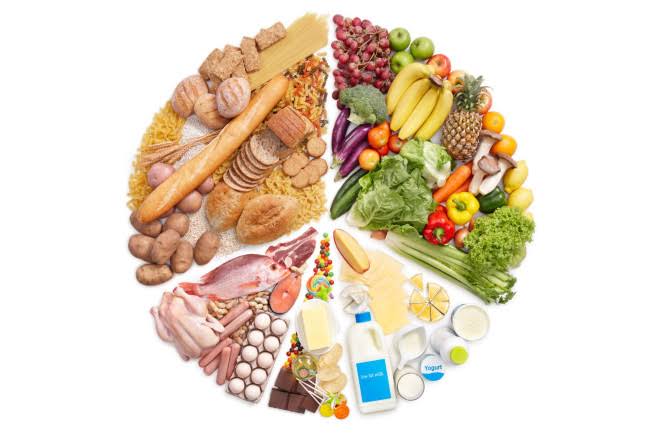 To develop a weekly planning, you must always keep in mind the idea of the dish. Try to always have one part of vegetables, one part of protein foods and one part of carbohydrate-rich foods. In order not to displace any group of foods, try to distribute the group of protein foods following the weekly consumption proportion stated below.
Half of the Plate: vegetables
Fill half of your plate with vegetables, and at least one of the meals of the day with raw vegetables, although you can also combine raw and cooked vegetables in the same meal. This is also equivalent to a bowl of cream or vegetable soup. Choose vegetables of all colors and limit the amount of oil you add (maximum 3 tablespoons per day).
A Quarter of the plate: Lighter Proteins
chicken🐔, turkey🦃, fush🐟, eggs, legumes, tofu… Limit red meat, and avoid processed meats such as sausages. The portion is the equivalent of the palm of your hand, or a closed fist.
Another Quarter of the Plate: Cereals, Better Whole Grains.
Wheat, quinoa, oats, rice🍚… This would be equivalent to a couple of slices of wholemeal bread🍞, a potato🥔 the size of an egg, and half a cup of rice🍚, pasta or cereal.
Desserts and Drinks
For dessert, a piece of fruit or a yogurt. And for drink, water, tea, coffee☕ or infusions. And if you drink milk🥛, seven glasses a week will be just perfect.
The Nutritional Content of this Healthy Food Plan for a Week:
White meat: maximum of 3 servings per week.
Red meat: maximum of 1 serving per week.
White meat: maximum of 2 servings per week (rabbit🐇, turkey🦃, chicken🐔).
Fish: maximum of 3 servings per week for white fish or 4 servings for blue fish🐟.
Oily fish: maximum of 1 – 2 servings per week.
Legumes: minimum of 2 – 4 servings per week.
Seafood: 1 – 2 servings per week.
Eggs: maximum of 3 – 4 servings per week (if you don't have colesterol problems), if you do, 1 – 2 servings will serve better.
For further details, check out our proposed healthy meal plan for a week below.
Each week, you'll find a meal plan full of varied and easy-to-make recipes. To minimise the time you spend in the kitchen and maximise the time you spend enjoying life, we try to reuse leftovers for at least one meal each week.
Stay tuned for a new meal plan every Friday! Or, bookmark this one and save it.
The healthy weekly menu that we propose you is from Monday to Friday so that the weekend you have more freedom. You can eat the missing portions of oily fish🐟 or eggs on Saturday and Sunday.
Try to make the main cooking of your recipes healthy.
Priortize healthy cooking methods such as grilling, baking, steaming moderate frying, boiling, battering or sautéing.
Weekly meal plan – dinner ideas – updated weekly!
If you haven't signed up for my newsletter, do so NOW so you can receive new recipes and meal plans updated weekly.
Myhealthmyskin's Meal Plan For The Week
MONDAY
Main Dish: – Barbeque Pork Sliders – Adapted from our slow cooker pulled pork recipe, we made Hawaiian rolls to use as buns for the sliders. Leftovers are versatile, so this is a great way to start the week.
Accompaniments:
Watermelon🍉: quick and easy, and at the best time of year.
Broccoli🥦 salad🥗: great with a sandwich or as a side dish. My kids love this version with apples🍎.
TUESDAY
Main Dish: Mexican Beef with Skillet Rice🍚– This skillet dinner has all the flavours and is perfect for a busy night. 1 pound of ground beef is all you need. My husband and I like to serve it in a bowl with the seasonings, and the kids wrap it in tortillas.
Accompaniment:
Relish -.Shredded lettuce, sour cream, guacamole, black olives, ranch dressing with jalapeños, Pico de gallo
Wednesday
Main Course: Alice Springs chicken🐔 – If you love the outback, you'll love this recipe. If you've never tried Alice Springs chicken🐔, you'll love the layers of tender chicken breast, honey🍯 mustard, sweet onions and cheese🧀.
Accompaniments:
Mashedpotatoes🥔 – This recipe is so simple and so creamy.
Garlic roasted vegetables – The classic, simple and delicious way.
GarlicBread🍞 – The perfect way to bring it all together.
THURSDAY
Main Course: Baked Pork Stuffed Potatoes🥔 – An easy dish to make with Monday's leftovers. You can also buy pre-cooked pork in the shops (as in the example in the video). Fill with shredded pork, top with cheese and bake at 350 degrees until cheese🧀 melts. Bring it down from the heat and garnish with sour green veggies and healthy cream.
Accompaniments:
GarlicParmesan Broccoli🥦 – This roasted broccoli🥦 is the only broccoli🥦 the kids like and can also be cooked with potatoes🥔.
Buttermilk Cornbread – A slice of this cornbread will make this dinner a real treat.
FRIDAY
Main Dish: Tuscan tomatoes🍅 Tortellini Soup – This soup is so simple and so delicious. It's great to eat on a Friday night and the leftovers are a delight to use for a weekend lunch or dinner.
Accompaniments:
Garlic cheese🧀 bread🍞: – It's like grilled cheese🧀, but without the hassle. Great for dipping.
Chicken🐔 Caesar Pasta salad🥗 – Make it without our chicken🐔 to complement the soup.
Dessert- Bakery Style chocolate🍫 Chip cookies🍪 – This is my favourite chocolate chip biscuit recipe. I think I've made 100 dozen of them by trial and error, but if you like your cookies🍪 thick and chewy, this is the best recipe for you. You can also add green chilli cheddar sauce, if eaten with chips.