Tummy tuck also known as Abdominoplasty is indicated for women with excess skin and belly fat. The result is a flat abdomen, without sagging and free from diastasis. In addition, in the before and after we see a significant reduction of stretch marks located below the belly button.
So, if you suffer from excess skin and the appearance of your belly, abdominoplasty surgery is definitely in your plans!
Some people call it abnoplasty, but despite the incorrect spelling, we know exactly what they mean.
And, in this text, you will know everything about abdominoplasty and what you need to do to conquer the belly of your dreams. We'll show you step by step, scar types, recovery, value and more! The complete list follows below:
Keep reading this text to find out how a tummy tuck is done! Or click on the index above and be directed to the topic of interest.
What Is Abdominoplasty?
Abdominoplasty is a surgical procedure indicated to remove excess sagging skin in the abdomen. This surgery removes loose skin, fatty deposits, and distension marks (swelling) located on the belly.
At your appointment, the doctor will explain the location of the scar and how the tummy tuck will be performed.
All this in order to achieve the firm and flat appearance of the abdominal region, since it is not possible to achieve this through diet and physical activity routine.
That is, you can even lose weight, but the skin looks flaccid, as the abdomen assumes a disproportionate size in relation to the rest of the body.
It is worth saying that abdominoplasty plastic surgery is one of the most sought after in the United States.
You may also be interested in: Symptoms of Torn Internal Stitches After Tummy tuck (Abdominoplasty)
Tummy Tuck Surgery: When To Do It?
It is necessary to do an abdominoplasty when there is a lot of sagging and excess skin in the belly region. This usually happens in cases of pregnancies and after having gone through a great weight loss process. But there is also another reason why women choose to have this surgery, when they go through bariatric surgery and there is plenty of skin left over.
Not always the appearance of our belly pleases us, but abdominoplasty can make it more beautiful!
First of all, I need to tell you something important…
So don't blame yourself for your diet failures! Toning the belly is not an easy task! But you already know that, right?
There were so many attempts to get rid of localized fat and sagging skin.
And despite strictly following a nutritious diet and exercise plan, you are faced with minimal results. And that flat stomach of yours, from when you were younger or before you had kids, doesn't seem to be coming back.
Who is to blame? It sure isn't you!
It is important for you to know that saggy skin CANNOT be fixed by just following a healthier lifestyle. Some external factors can make it difficult, such as:
Skin aging
Hereditary characteristics
Ease of accumulating belly fat
Big weight loss
Pregnancy
While all these aspects may turn you off, don't feel like it's a losing battle. Abdominoplasty is an abdominal plastic surgery that eliminates excess skin and sagging.
Therefore, any woman having a tummy tuck will have the following benefits:
Fat located in your belly will be removed
All sagging abdominal skin will be removed
Separated stomach muscles will be repaired
And, of course, there are some types of tummy tuck to suit each case.
So that means it is YES possible to have a flat stomach!
So, let's get to know better how tummy tuck surgery is performed. That is, the perfect solution to bring your self-esteem back.
How Is Tummy Tuck Surgery Performed?
Abdominoplasty is performed by a specialized plastic surgeon. The step by step is to first go through a consultation with the doctor, who will indicate some tests to check your health status. But we will tell you the other steps of the surgery!
Here is the key information about tummy tuck surgery.
If everything is right, you can now set the date for your plastic surgery.
Remembering that abdominoplasty surgeries should only be performed in hospitals recognized and experienced in this type of procedure.
Before starting the abdomen surgery, the area is still cleaned and the incision lines are drawn. Then the medical team follows the following step by step:
The Surgeon makes incisions above the pubic area in a semicircle shape.
The skin and the layer of fat over the abdomen are separated and the tissue is peeled back towards the rib cage, exposing the abdominal muscles.
If the abdominal muscles are far apart, the surgeon will suture them together to create a flat, firm abdominal wall.
The surgeon stretches the skin and detached fat over the abdominal wall. The belly button remains intact, and as it is covered by this layer of skin, the surgeon makes a small incision to make the belly button visible again.
Leftover skin and fat are removed. The incisions are sutured and dressings and bandages are applied.
To prevent the formation of fluid during the healing process, drains are placed in the abdomen, which remain in place for 2 or 3 weeks.
In the infographic illustrated below, you will better understand how each step of the abdominoplasty step by step works. Check out:
What Anesthesia Is Used For Tummy Tuck?
In abdominoplasty, epidural anesthesia with sedation or general anesthesia will be used. Avoid using a more invasive type of anesthesia for tummy tuck. As is the case with general anesthesia that requires intubation and can generate more risks for the patient.
That's why we know that more invasive anesthetic techniques can increase recovery time during the postoperative period. In addition to providing greater discomfort and pain for the patient.
Epidural anesthesia, on the other hand, offers more benefits to the patient, as it allows a smooth recovery and also contributes to the prevention of thrombosis. On the other hand, it requires a more experienced anesthesiologist.
Based on this information, then what defines the choice for the ideal anesthetic?
It is closely related to the anesthesiologist's experience. This is because the epidural requires a more accurate application technique.
As well as knowledge and practice that only an anesthesiologist specializing in plastic surgery has.
How Long Does Tummy Tuck Last?
The surgical time of abdominoplasty lasts on average 3 hours, but can reach up to 5 hours. This variation of how many hours a belly surgery takes is based on the amount of skin that must be removed.
Factors that contribute to the duration of the surgical procedure include:
The amount of excess skin that needs to be removed.
The need to include additional procedures.
And if the abdominal muscles need to be repaired.
So your surgery may take longer if you need to have liposuction first to remove excess fat.
The Technique To Correct Abdominal Diastasis
Well, all women know how transformative pregnancy can be.
And, this is extremely normal! Well, you think that the body needs space for the development and growth of the fetus.
Throughout pregnancy, the body undergoes changes and the result can be more separated or slightly weakened abdominal muscles.
But after giving birth, everything is expected to go back to normal, right?
However, it is not so!
It can happen that the woman finds herself with a swollen stomach, as if she were still pregnant. This is a feature of diastasis recti abdominis, which is beyond her control. But, don't worry, because there is a solution!
Did You Know That Abdominoplasty Corrects Diastasis?
When the doctor plicates the abdominal muscle, that is, he sews the muscles together. This corrects the vertical distance between them, improving that separation that is visibly noticeable in the belly.
But this correction is not just a matter of aesthetics, if the diastasis is not properly treated, it can cause severe pain and difficulty in locomotion.
Although it is more common to see pregnant women with diastasis, it can also happen in people with obesity and a sedentary lifestyle.
Discover The 5 Types Of Tummy Tuck
The types of abdominoplasty are indicated according to the location and amount of sagging skin present in the patient's body. Discover the options available:
Classic Tummy Tuck
Anchor Tummy Tuck
Mini Tummy Tuck
Reverse Tummy Tuck
Circumferential Tummy Tuck
Although the most common is the option with the scar next to the pubic hair.
Although the term abnoplasty is heavily researched, it is just an incorrect spelling of surgery on the abdomen. Most often it refers to Classic Abdominoplasty.
Some patients are faced with other scars, but all are made in order to make them as discreet as possible.
Next, you will understand the main differences between the techniques to remove flaccidity from the abdomen and when they are indicated!
1. Classic Tummy Tuck
The incision is located horizontally, extending from one end of the hip to the other. However, the plastic surgeon is careful to position it in an area that can be easily hidden by underwear or bikinis.
That way, you won't have to worry about other people seeing your scar when wearing certain types of clothing.
The BENEFITS of the classical technique are:
Removal of excess skin and fat
Stretch marks below the belly button will be removed
There will be a scar around the belly button
2. Anchor Tummy Tuck
This technique follows the same principles as classical surgery.
However, the scar will be different, having a larger format, in order to remove a large volume of remaining skin. Not just at the bottom (horizontally), but also vertically.
Of course, the indication for this type of procedure is restricted to a group of people who have lost A LOT of weight! Usually those who had stomach reduction (post-bariatric). Or, even, those who underwent a strict diet and intense exercise.
Only those who have sagging tissue in large amounts know how uncomfortable this can be.
Since the accumulation of sweat in certain regions, it can cause diaper rash, leave residue and create bacteria and fungi. In addition to the bad smell, candidiasis and other infections.
The BENEFITS of Anchor Tummy Tuck are:
Vertically and horizontally removal of excess skin
Removal of large amounts of saggy skin and stretch marks
Reconstructive surgery that helps the patient's health, well-being and hygiene
3. Mini Abdominoplasty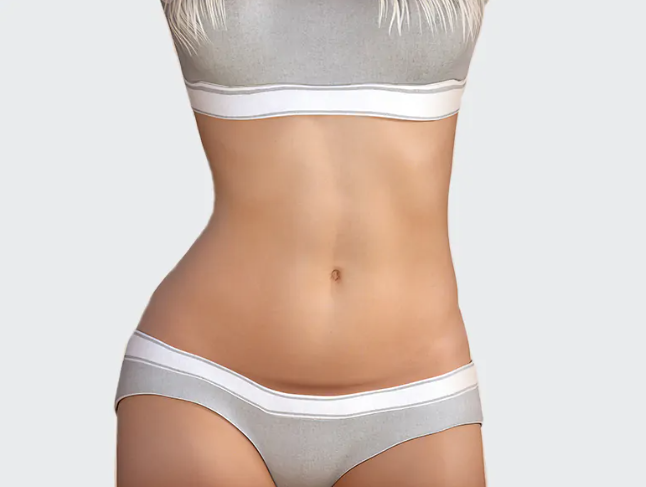 This technique is indicated for those who have very LITTLE sagging skin.
I mean, then, that it is ideal for women who are within their ideal weight. But with a minimal amount of muscle sagging, located below the belly button.
Another point is that it will not be necessary to sew the muscles, as there is no diastasis of the rectus abdominis.
Then, a scar with an extension and location similar to that of a cesarean section will be made.
The BENEFITS of Mini Tummy Tuck are:
Preserve the patient's navel, without changing its location
Won't have a scar around the belly button
Scar is smaller and is even more hidden in underwear
4. Reverse Abdominoplasty
This is a rare technique and will hardly be indicated, as the scar is located in another region.
Unlike classic abdominoplasty, in which the incision is made above the pubic hair, in reverse or inverted abdominoplasty, the scar is hidden below the breasts.
Although it is rarely used, the reverse scar is especially indicated for patients with a lot of sagging skin above the navel. That is, in the upper abdomen and not in the lower one, as is the case with traditional abdominoplasty surgery.
The advantage can be even greater if the patient wants to have breast surgery. Because, in this way, the same incision can be used.
This technique is recommended for patients who want to avoid vertical scarring on the belly.
"Extended reverse abdominoplasty, combined or not with other compatible surgeries, in a single operative time, is a viable and safe procedure. The procedure eliminates the need to use other anchor-type techniques or another procedure that determines a second low transverse scar on the pubis, for aesthetic treatment of the hypogastrium."
5. Circumferential Tummy Tuck
In this technique, the scar is much larger, so it is little indicated, in addition to being a repairing surgery. That is, it is a procedure performed on people who have an excessive amount of skin.
Then there is excess tissue in the abdomen, flanks and back. Therefore, the scar makes a circumferential design, starting close to the pubic region and going around the entire hip, passing through the back.
Clearly, this procedure is indicated for patients who have experienced intense weight loss. In most cases due to bariatric surgery.
This surgery may also be known as a torsoplasty. Which removes sagging skin and fat from the back and hip region. And, consequently, she manages to lift her butt.
All About Abdominoplasty And The Main Questions
Imagine yourself going on a trip, in an unknown country, without even having researched information about the best tourist spots. Or, still, without knowing about its culture, typical foods and special attractions.
Of course, the chances of something unpleasant happening are higher. do you agree?
The right thing is to always be prepared, so it should also be done with Plastic Surgery. After all, it's a totally unknown procedure for you.
So the more you know about tummy tuck surgery, the more prepared you will be for the recovery stage.
If you're still not sure what questions you want to ask your surgeon, don't worry! We separate the main doubts, see below:
Is fat removed in abdominoplasty?
In abdominoplasty, the fat close to the flaccid skin that is being eliminated is removed. That is, that significant accumulation of fat present above and around the belly button.
The fat located on the sides, breeches and flanks can be removed only with Liposuction. As well as other nearby locations. The combination of these two surgeries can be known as  lipoabdominoplasty.
It is worth saying that the purpose of Liposuction surgery is just to remove fat. Therefore, she cannot remove the sagging skin or plicate the abdominal muscle.
To make your belly flat, you will also need to opt for a tummy tuck.
That's why abdominoplasty with lipo may be indicated in these cases.
Especially when the patient is looking for body harmonization, in addition to wanting to make the curves more accentuated.
So, just to be clear: what is removed in a tummy tuck?
Fat located above or around the belly button
All the excess skin and sagging present in the belly
Diastasis through abdominal muscle plication
Can The Muscle Loosen After Tummy Tuck?
Some women believe that the belly remains swollen, even after a tummy tuck. It is possible?
The plication is done with threads that are not absorbable by the body. So that means the points will remain strong even as the years go by.
Since the internal stitches are strategically inserted into the stomach muscles. From the pubic bone to the ribs, in an upright position.
The technique is so well done that the muscles remain contracted. Therefore, the belly is not protruding, but with a completely flat appearance.
Therefore, if the patient takes care of her result after the surgery, the muscle will NOT loosen! That is, you must…
keep the same weight
Continuing with an exercise routine
Avoid having new pregnancies
Now, if you do the opposite, then you will lose your flat stomach!
Of course, we've seen patients lose the result achieved with a tummy tuck.
And this is very sad!
Some cases of excessive weight gain or pregnancy, others that have suffered excess force or trauma at the site. And, of course, the expected consequence is a rupture in the suture line.
But, I repeat: it is very rare to happen!
Need To Lose Weight Before Tummy Tuck?
YES, you need to lose weight before abdominoplasty!
Abdominoplasty should not be considered a treatment for obesity  or a replacement for diet and exercise. When applying for plastic surgery, you need to be healthy.
Well, if you are one of those people who believes in losing a few pounds after plastic surgery on the belly. And you keep asking yourself: how many pounds does abdominoplasty lose weight?
Know that this is not the purpose of the surgical procedure on the abdomen!
And, What Is The Ideal Weight For A Tummy Tuck?
The ideal weight for an abdominoplasty must be determined based on the BMI calculation, and the patient must be in the healthy category. That is, the result of the body mass index should be between 18.5 to 24.9, or at least slightly above that. To calculate it is simple, just follow the following formula: BMI = mass ÷ (height x height).
Therefore, the main recommendation is: if you are interested in losing weight, do it before surgery. To prevent the appearance of sagging tissue again.
But then it will not be possible to do abdominoplasty overweight?
Depends on the case the doctor can operate. That's why it's important to do the pre-surgical follow-up with a specialist and well-experienced plastic surgeon.
In the face-to-face consultation, he will be able to analyze and say how many pounds he can do abdominoplasty. And, moreover, if you will need to lose weight before the surgery. Because depending on the case, the aesthetic result will not be good.
But you don't want to see your dream fall apart, do you?
So, follow all the doctor's recommendations and keep in mind that the purpose of the surgery is the removal of sagging skin and not weight loss.
Will Stretch Marks Be Removed In Abdominoplasty?
IT DEPENDS! It is possible to eliminate stretch marks from the lower abdomen. In fact, this is a consequence, because by cutting the excess skin, the existing stretch marks will also be eliminated.
Stretch marks that are born on the belly are usually due to the process of pregnancy or excessive weight gain. Since the skin stretches, destroying the elastic fibers and collagen present in the skin. Forming those dreaded lines!
Abdominoplasty serves as a treatment for stretch marks. As long as these marks are within the area of ​​skin that will be removed, as it will come out together in the sagging removal process.
For example, if you are going to have a mini tummy tuck, fewer stretch marks will be removed. And those that are outside the cutting area will remain.
Does A Tummy Tuck Make A Future Pregnancy Difficult?
Does tummy tuck surgery make a future pregnancy difficult?
Pregnancy after a tummy tuck is generally not a problem. Only in terms of aesthetics. Well, there's a high chance you'll miss the result.
But if you want to have children after belly surgery, know that it does not affect your health or that of the baby at all.
Of course, the most recommended thing is that pregnancy happens before you think about having a tummy tuck. However, we know that unforeseen events happen and that plans can change!
However, six months after the end of breastfeeding, it is already possible to think about having a new plastic surgery on the abdomen. So get the idea out of your head that you can have a tummy tuck right after giving birth, okay?
Since the body needs time to recover! Therefore, doctors recommend that the period of six months after the end of breastfeeding be respected.
Can You Do A Tummy Tuck In Men?
YES! There is a male abdominoplasty to remove excess skin and fat. Which can be done with the aim of making this audience even more comfortable with the appearance of their abdomen.
The technique used in surgery for men is very similar to that used for women. What differs is the incision, since in the case of the male audience, it is located close to the intimate region.
Although it is a surgery to improve abdominal aesthetics, this procedure does not give you a "six-pack". To achieve this aspect, the patient needs to combine a healthy diet with the daily practice of physical exercises.
Will A New Belly Button Be Done In Abdominoplasty?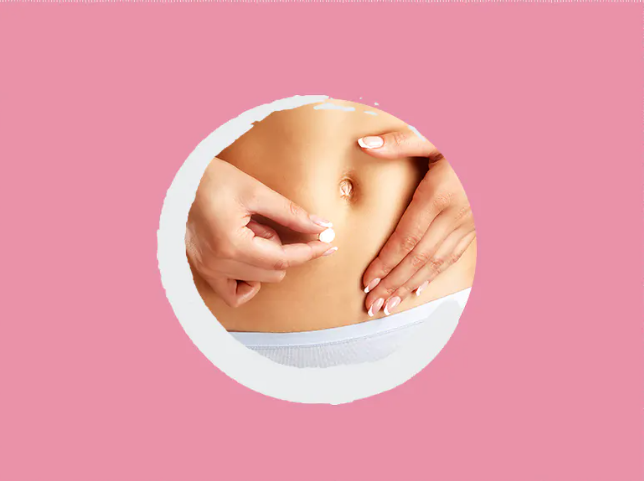 The navel after abdominoplasty does not change location, it returns to its original position.
IT DEPENDS! The navel can be redone during abdominoplasty, if the patient wants to change the aesthetics of this region. But, normally, there is only the repositioning of the navel after the abdominoplasty.
Since in the traditional surgical technique, the doctor removes all the excess skin located in the lower region of the abdomen.
Therefore, the skin that was above the belly button will need to come down. Therefore, it will be necessary to make an incision around the navel, so that it can remain in its place of origin.
However, this will only be necessary in patients who have undergone a massive removal of sagging skin.
But it is worth saying that the belly button will not be the same in all women. Well, each one has a body type. And it also depends on the limitations of each surgery.
What Is Included In The Price Of A Tummy Tuck?
First of all, it is important to say that it is not possible to inform the exact value of the surgery.
This is because no clinic can provide a budget without the patient having been evaluated in person by the plastic surgeon.
But it is possible to say the  average value of a tummy tuck  or abnoplasty, average value in both cases is the same, it's just a wrong way to call the same surgery.
With the average price, you can get a sense of values ​​and program yourself for the realization of your dream.
Well, the following items are included in the price of the tummy tuck:
hospital and hospitalization
Plastic surgeon
anesthesiologist
Medical team
Nursing team
Post-operative follow-up
Dressings and surgical materials
Preoperative Care For Abdominoplasty
Abdominoplasty surgery is the third most performed procedure in Brazil. According to the SBCP, in 2019, 140,774 plastic surgeries were performed on the belly.
A fact that arouses the interest of unqualified professionals. Well, they want to make a profit, but without the proper experience, they put the health of several women at risk.
You have to be very careful with that, okay?
That is why it is important to select the plastic surgeon and clinic well.
And, always taking into account the care provided during the pre and post-operative period and where they offer a complete structure for patient care, at all stages.
But talking about the main care for the preoperative period of abdominoplasty, we have the following:
Tell your doctor about the routine medications you normally take.
Avoid alcohol and cigarettes for 14 days before surgery.
Eat a light diet the day before the operation and respect the total fasting period of 8 hours.
Shave your pubic hair carefully so that there are no cuts or injuries in this area.
If you are menstruating, tell your doctor! Preferably, schedule the surgery outside of the menstrual period.
Bring an easy-to-wear cotton garment with buttons to wear on discharge.
Any signs of indisposition, cold, conjunctivitis, infections… Tell your doctor before the surgical procedure.
Surely all these points will be addressed in your preoperative consultation. And, still deliver all written guidelines.
Therefore, the patient can take it with her and organize herself in the best possible way! But, if you have any more technical questions, speak directly to the clinic's nursing staff.
Exams For A Tummy Tuck
The most requested tests for abdominoplasty are:
Complete blood count
coagulogram
Electrocardiogram
Urine analysis
blood glucose
creatinine
ECG to assess the electrical activity of the heart
Other tests as needed for each patient
It is important to perform the exams for abdominoplasty plastic surgery, because that way the doctor can identify if you have something that prevents you from having the surgery.
Such as, for example, diseases that can lead to complications in anesthesia, in the operation or in the postoperative period.
Tummy Tuck: Surgery And Recovery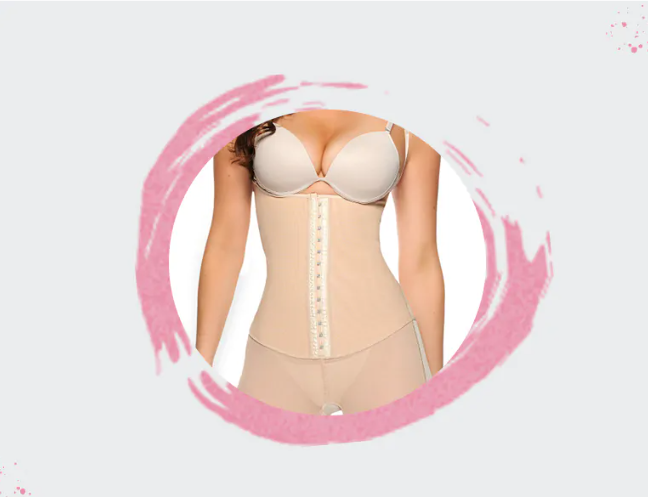 Recovery from tummy tuck surgery requires some care, but you get everything detailed by the plastic surgeon.
Initially you should wear compression garments, which tighten and help reduce swelling and prevent the formation of liquids.
In addition, this mesh offers more comfort and support in the healing process of your abdominal plastic surgery. The time of use varies according to the extent of the surgery, and can last for several weeks.
As with any surgical procedure, there may be pain, which is controlled with pain relievers prescribed by your doctor. In addition, there is the possibility of bruising and swelling that disappear in a few weeks.
In abdominoplasty recovery, initially, you will not be able to stand in a completely upright position – standing – but it is important to start walking for short intervals of time, right after the procedure. This facilitates blood flow.
In addition to walking hunched over, to sleep you need to keep your belly up and your legs bent, supported on pillows. All this so as not to put pressure on the abdomen and not run the risk of damaging the scar.
But gradually, this need to keep hunched over decreases and you return to normal posture.
Stitches resorb over time, but non-resorbable stitches should be removed in approximately 1 week. Some sutures from tummy tuck surgery remain in place for up to four weeks.
Post-abdominoplasty Lymphatic Drainage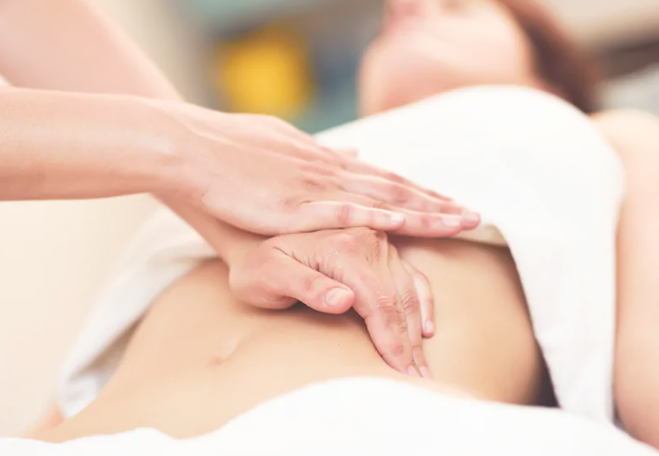 Lymphatic drainage, an important part of the recovery process from abdominal surgery, is basically a type of massage that helps eliminate excess fluid and toxin from our body through the lymphatic system.
In addition, lymphatic drainage in abdominoplasty helps relieve pain and can even accelerate healing.
Your plastic surgeon is responsible for telling you when you should start drainage sessions and how many will be necessary for your recovery.
How is the scar after abdominoplasty?
I believe you already know that there is no plastic surgery without a scar!
And each person responds differently to the tummy tuck healing process, as it varies from organism to organism.
In general, in all patients, the scar tends to be red for a few months, but tends to gradually lighten.
The size varies according to the technique chosen and how abdominoplasty is performed.
In the following table, you can easily identify the types of abdominoplasty and their respective scars.
| | |
| --- | --- |
| TYPES OF ABDOMINOPLASTY | SCAR LOCATION |
| Conventional Tummy Tuck | It sits just above the pubic hairline and around the belly button. |
| Anchor Tummy Tuck | A central cut made vertically on the abdomen and another horizontally close to the pubic hair. |
| Mini Tummy Tuck | It is above the pubis, but has a smaller extension. |
| Reverse Tummy Tuck | The scar is hidden below the breasts, exactly in the crease. |
| Circumferential Tummy Tuck | The scar extends on the sides, passing through the back and meeting in the inter-gluteal groove. |
Possible Complications And Risks Of Abdominoplasty
As with any surgical procedure,  plastic surgery on the belly also involves risks. Among the possible complications we have:
Emergence of hematomas
Seroma (accumulation of fluid near the scar)
Opening some point
anesthetic problems
Deep Vein Thrombosis and Pulmonary Embolism
Complications in the healing process
For all these reasons, it is essential to choose a plastic surgeon who is specialized and has a lot of experience in abdominal surgery.
In addition to a clinic that offers all the support and specialized and experienced teams to follow up on you.
You May Also Like:
Where Can I Get A Tummy Tuck In Sp?
Now that you know everything about belly surgery, for sure, your next mission is to find the best tummy tuck plastic surgeon . Am I right?
With all the information the text has given you, making this decision is much easier. But remember that in abdominoplasty surgery:
You will have reduced abdominal circumference measurements
Pregnancies or weight changes compromise the result.
Following a healthy routine helps to maintain the result.
Each type of abdominoplasty is indicated for specific cases.
Finally, I will leave you a list of important items that you should consider when choosing clinics that perform abdominoplasty in SP.
Do a search considering the following points:
The  surgeon needs to have specialized training in plastic surgery, proven experience and patient indications.
The clinic must have its  own team of anesthesiologists. This is the professional responsible for your safety during the surgery.
Prefer a  place that has a lot of experience in plastic surgery, because having operated on thousands of patients, the clinic can achieve excellent results.
Surgery should be done in  hospitals that focus on this type of procedure  to avoid unnecessary risk of infection.
Surely this makes a difference in your safety and quality of the result. Ah, we created this list based on the quality and experience.
If you want to read more articles similar to All About Tummy Tuck [Abdominoplasty] – The Complete Guide to Surgery That Can Eliminate Abdominal Flaccidity, we recommend you visit our Women's Health category.
Did You already know About Abdominoplasty Or Abnoplasty? Where and How? Comment Below!